YES MR MAPS WAS RIGHT, THE MAP IS THE KEY IN MORE THAN ONE WAY, HERE WE HAVE FOUR MAPS ALL POINTING TO TREASURE IN THERE OWN WAY, TWO WILL GIVE YOU WHAT YOU NEED TO GET THERE, TWO WILL POINT OUT WHERE HE IS.
WE GOT INTO THE HUNT RIGHT AFTER IT STARTED, AND WE WERE OBSESSED WITH IT, EVERYTHING SEEMED SO HARD, WHAT WAS A CLUE WHAT WAS NOT, THEN WE WERE WATCHING THIS WORLD WAR TWO MOVIE ABOUT A PATOON OF SOLDIER'S, WHO WERE TRYING TO FIND THIS BIG GUN THAT WAS BOMBING THERE TROOPS, THE MOVIE WAS LIKE A PUZZLE, IN THE FACT ALL THEY HAD TO FIND THIS GUN WAS A SMALL OVERLAY WITH MAP PIECES ON IT, AND SOMETHING ONE OF THERE PRISONERS HAD SAID, "AMERICAN'S ALLWAYS TAKE THE OBVIOUS AND REVERSE IT". WE THOUGHT COULD IT BE OBVIOUS? COULD THIS BE TRUE ?
NOT HAVING THE TREASURE BOOK AT THAT TIME, ONLY THE VIDEO TAPE, WE PUT THE TREASURE VIDEO TAPE IN OUR VCR AND STOPED IT ON THE PART WHERE THE PICTURE, OF THE LINES AND ARROWS WERE BURNING, AND TAPED A PIECE OF WAX PAPER ON THE SCREEN AND TRACED ALL THE LINES, WE HAD SEEN THE RED HAT WITH ANTIOCH ON IT, SO WE USED THIS AS A POINT OF REFERENCE ALLWAYS KEEPING ONE ARROW ON IT, AND THEN THERE IT WAS, MAP ON FAR RIGHT, THE TOP LINE WITH TWO ARROWS COMING DOWN, AND IS LINED UP ON ROAD J12, THE ARROWS FROM THIS POINT RIGHT TO SAND ROAD AND SUNSET ROAD, NEXT LINE DOWN WITH TWO ARROWS COMING DOWN, IS LINED ON UP ON 8 MILE ROAD, THE ARROWS ON THIS ONE POINT TO ARMSTRONG ROAD AND MOUNTAIN HOUSE, THE FAR LEFT LITTLE ARROW POINTS RIGHT TO ANTIOCH, AND SOMETHING WE DID NOT KNOW AT THAT TIME THE ROAD TO TREASURE 160. THIS MAP WE GOT FROM AAA [ california state automobile association] THE OVERLAY I USED ON THIS ONE IS BIGGER THAN ONE IN BOOK, TRACED OFF TV, JUST LUCK OR WHAT WE DO NOT KNOW, BUT IT WORKED ON TWO MAPS AT THIS SIZE, INSTEAD OF BEING 6 1/2 INCHES ACROSS CIRCLE LIKE IN BOOK, THIS ONE IS 10 1/2 INCHES ACROSS.
MAP ON LEFT IS A MURPHY MAP OF SAME AREA, BOTH OVERLAYS FIT THIS ONE, WITH THE X ON TREASURE, THE RED CIRCLES ARE THE 6 1/2 OVERLAY, THE BLUE CIRCLES ARE IS THE 10 1/2 OVERLAY, THEY ALL POINT TO SOMETHING IN MOVIE AND OR BOOK.
THE CALIFORNIA MAP SECOND IN ON RIGHT, START LINE AT LIGHTHOUSE GO TO MICKE GROVE PARK AND ZOO IN LODI WHERE THE CAROUSEL IS, DRAW LINE FROM MICKE GROVE ZOO TO MT. HOOD OR. GO OUT OF CALIF AT ABOUT 122*, THEN AS IT SAY'S TO GO FORWARD YOU MUST FIRST GO BACK, TAKE LINE FROM MT. HOOD TO ANTIOCH, CA. SECOND LINE FROM LIGHTHOUSE GO'S TO AMERICAN FORK WHICH IS JUST ABOVE SACRAMENTO, CA. NOW FROM AMERICAN FORK DRAW A LINE TO KINGDON DRAGSTRIP, WHICH IS RIGHT TO THE LEFT OF MICKE GROVE ZOO. NOW YOU HAVE WHAT LOOK LIKE TWO LIGHTHOUSE BEAMS, ONE FROM THE WEST, ONE FROM THE NORTH, AT THE END OF EACH BEAM IS A SMALL AREA THAT IS BOXED IN, THAT IS WHERE TREASURE WAS, THIS MAP IS NOT DETAILED ENOUGH TO MARK EXACT SPOT, BUT WE THINK THERE SHOULD BE ONE MORE LINE OUT TO DESERT, MAYBE DEATH VALLEY.[this is not the rand mcnally map like we used in 1980s, that one had so many lines on it you whould not been able to made heads or tails of it, but these lines point to point, like the chapters in book, so it is ok, but it will not work for bird overlay.]
THE LAST MAP IS A NOAA NAUTICAL CHART 18662, THIS ONE GET'S RIGHT DOWN TO THE NITTY GRITTY, SEE THAT LITTLE GREEN AREA AT BOTTOM OF MAP, THAT IS THE MEADOWS SLOUGH, THERE IS A ROAD, RIVER, AND RAILROAD TRACK RUNNING SIDE BY SIDE, RUNNING THOUGH IT, REMEMBER IN THE MOVIE, CAR BOAT,TRAIN ON SHELF GOING SAME WAY, THE R.R. TRACK HAS BEEN TAKEN OUT BUT STILL ON ALL MAPS, IF YOU WALK ALL THE WAY DOWN THE ROAD,[when we went in the 80s you could drive to the end, this was before it became a state park] TO WHERE THE R.R. BRIDGE HAS BEEN TAKEN OUT, WATER WILL BE ON YOUR RIGHT SIDE, AND AHEAD OF YOU, TO YOUR LEFT IS THE FOREST, THERE WAS A LITTLE TRAIL GOING THRU THERE THAT BEARED TO THE RIGHT,AND THEN TO THE TALL REEDS, THAT IS WHERE THEY HAD CUT A TRAIL THRU, AND THEN IT CAME OUT ON A SMALL ISLAND THAT IS WERE TREASURE WAS. IT IS ALL OVERGROWN NOW 27 YEARS LATER, AND SINCE IT BECAME A STATE PARK, THEY DREDGED OUT THE CHANNEL, TO RETURN IT TO WETLANDS, AND THE WATER WE CROSSED ON A LITTLE BOARD, THAT THEY HAD PUT DOWN, IS NOW A 25 FOOT WIDE REVER.
YES YOU CAN WORK THIS OUT FROM YOUR HOME, BUT WE WENT AND TOOK PICTURES OF OUR CLUES, AND HAD FUN DOING IT.

SO THERE IT IS COMPLETION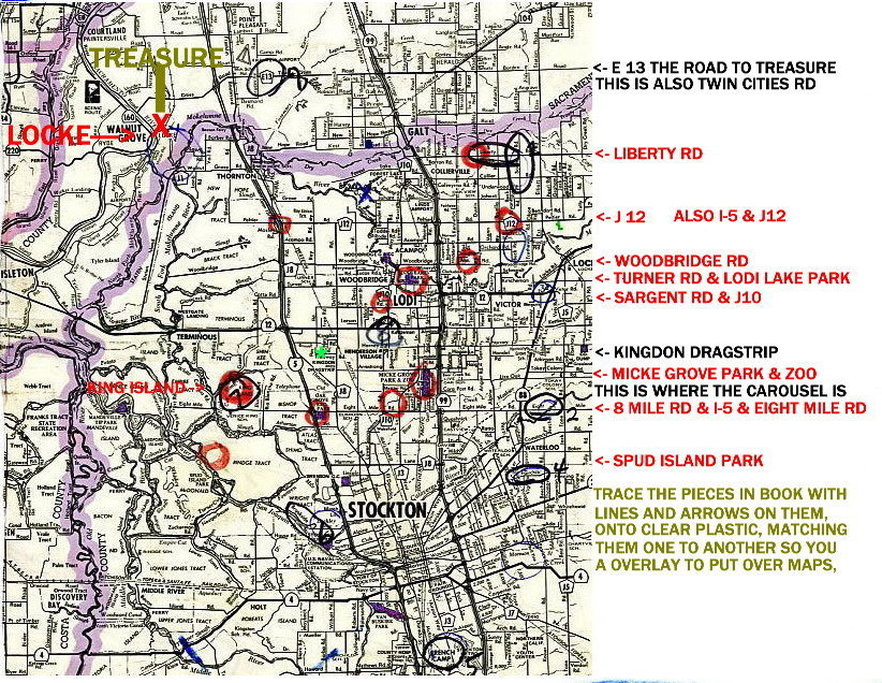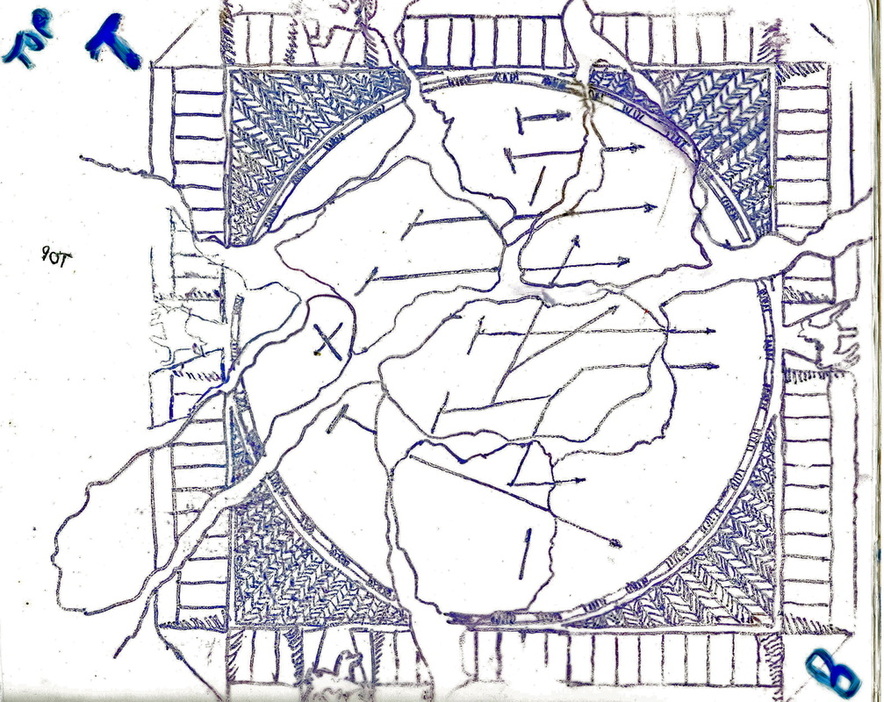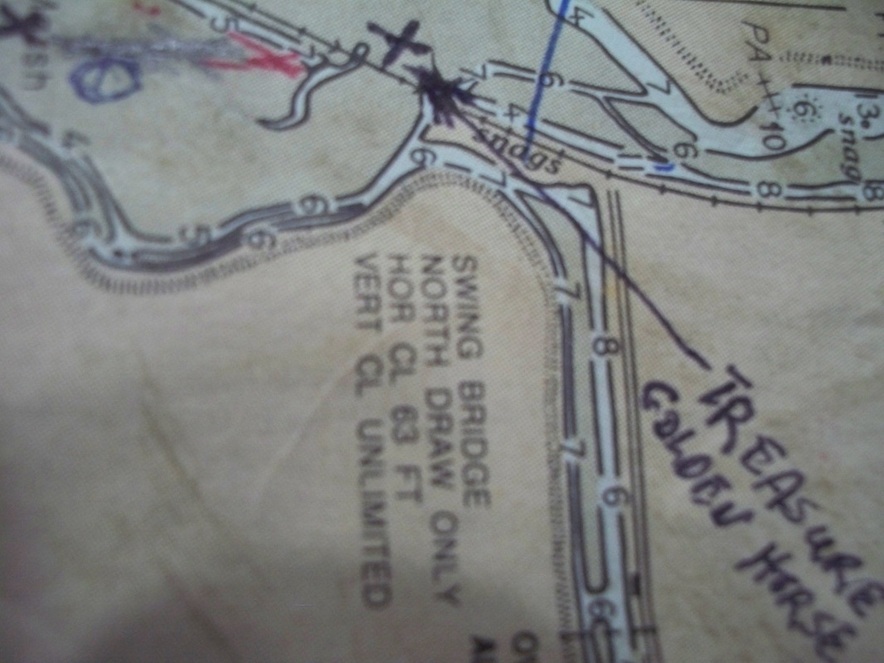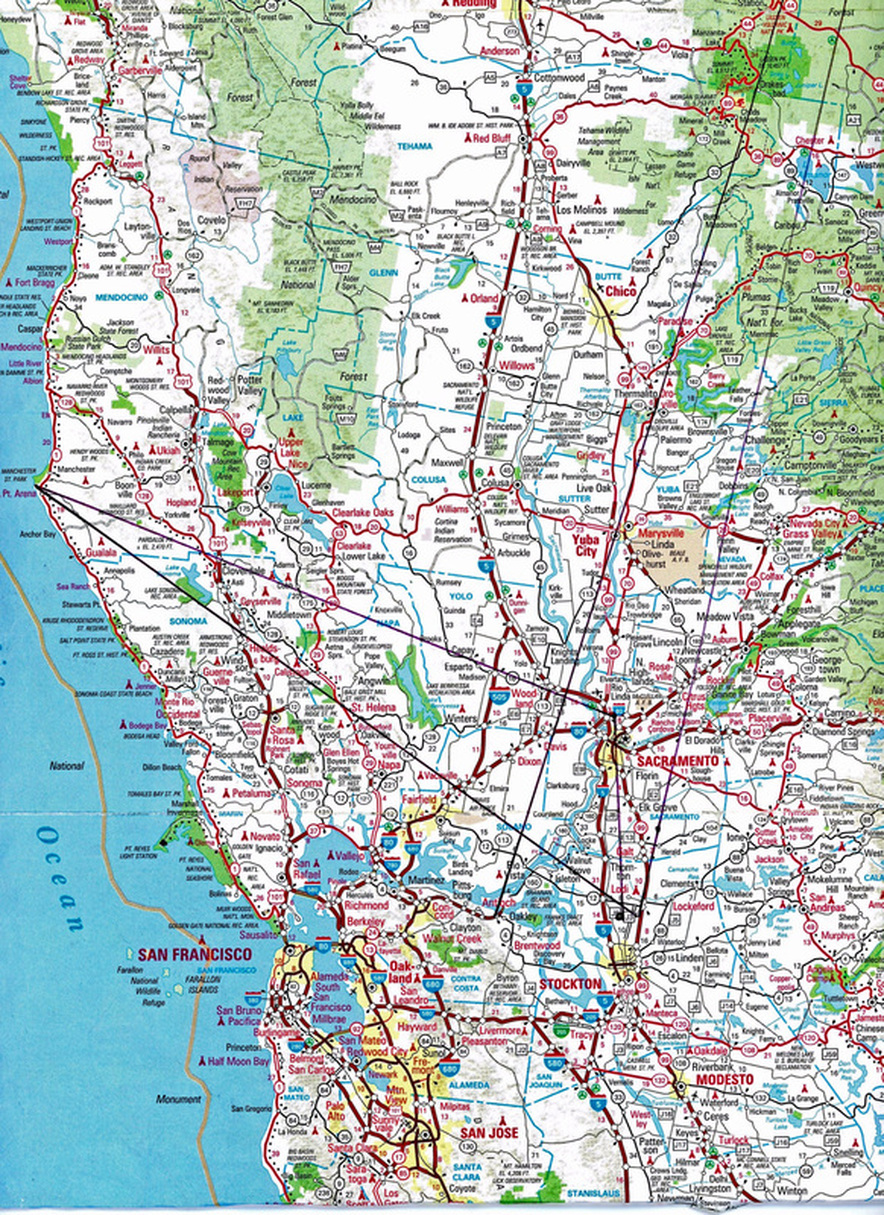 THE BIRD OF GOOD FORTUNE HAS LET US SEE ONE OF HER SECRETS Bird Corresponds to summer, red, fire, and knowledge; makes small seeds grow
into giant trees (need to give source). Often paired with the dragon, for the
two represent both conflict and wedded bliss; dragon (emperor) and phoenix
(empress). Portrayed with radiant feathers, and an enchanting song; only appears in times of good fortune. Within the ancient Imperial Palace in Japan, there was a gate known as Suzakumon 朱雀門 Red Bird Gate). The gate opened to the south.

NAUTICAL CHART 18662 RAND McNALLY CALIFORNIA

YES IT'S ANOTHER OVERLAY, THIS ONE FIT'S ALL FOUR MAP'S
TAKE A SMALL PIECE OF CLEAR PLASTIC, PUT OVER BIRD, TRACE BEAK OF BIRD, AND THREE NOTES THAT ARE NOT BLACKED IN, WHEN DONE, IT SHOULD LOOK LIKE CENTER BOTTOM PICTURE. THEN PUT IT OVER THE MAPS LIKE EXPLAINED BELOW.
TOP LEFT, ONE DOT ON THE 22, ONE 0N THE M IN MEADOWS, ARROW POINTS TO TREASURE,
TOP RIGHT ONE DOT ON ANTIOCH, ONE ON THE CARQUINEZ BRIDGE, WHERE THE WATER FROM DELTA GO'S TO BAY, AND THEN THE OCEAN, ARROW POINTS TO LOCKE CA.
BOTTOM LEFT LINE DOT UP ON E13 ARROW POINTS TO TREASURE,
BOTTOM RIGHT THIS ONE LINES UP TWO DIFFRENT WAYS, LIKE SHOWN, DOT, DOT, DOT, ARROW POINTS TO TREASURE, OR TURN YOUR OVERLAY OVER, PUT ONE DOT ON THAT BLACK LINE [J12] AT BOTTOM OF PICTURE AT INTERSECTION WHERE OTHER DARK BLACK LINE IS GOING DOWN, PUT OTHER DOT ON SAME LINE GOING DOWN, THIS IS THE LINE THAT POINTS TO SUNSET ROAD, ARROW WILL POINT TO TREASURE, WE MADE ALL OF THESE BIRD MAP PICTURES AT 3"X3", SO IF YOU MAKE THEM 3"X3" THEY WILL BE SAME SIZE AS ORIGINAL MAP.
AND ONE MORE, PAGE 28 IN BOOK STARS IN PICTURE FRAME, WITHIN TWO MORE FRAMES, PAGE 48 BOOK TELLING YOU THIS PIECE IS KEY.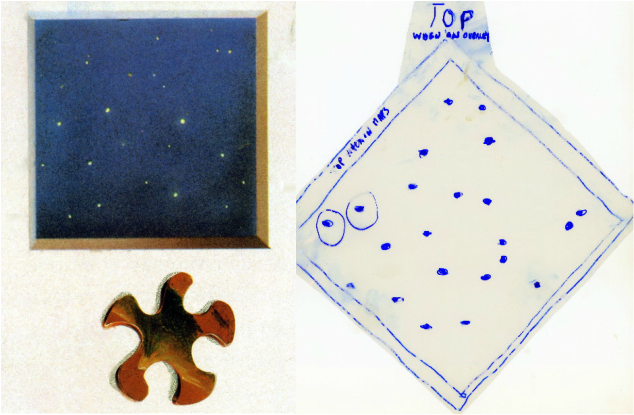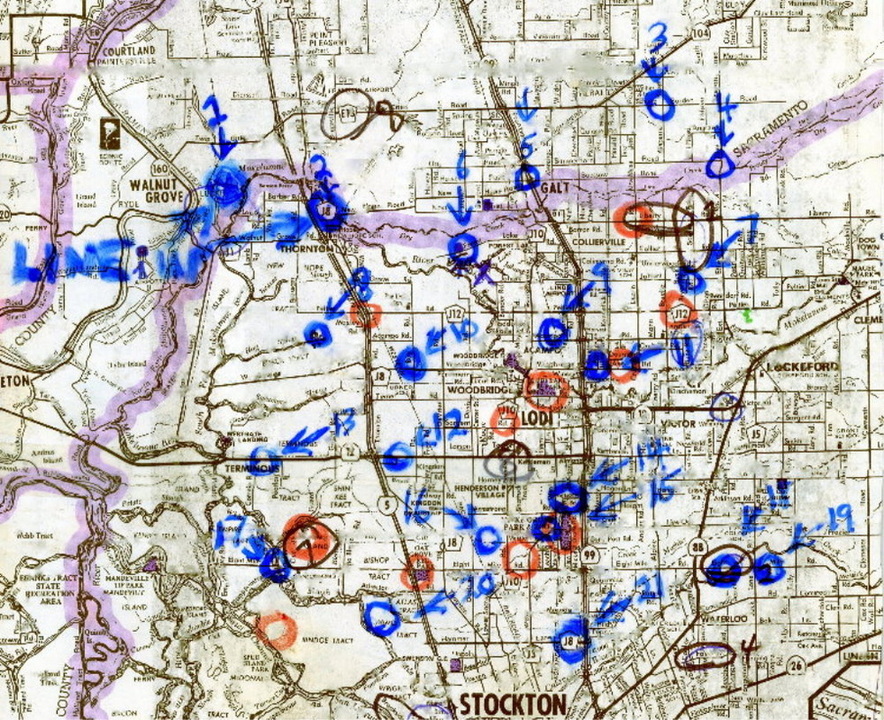 TRACE FRAME OF PICTURE, PUT DOT WHERE EVERY WHITE STAR IS, THEN YOU HAVE TO ENLARGE IT, THE NUMBERS 2 AT TOP J8 ON 5, AND 21 J8 ON 99 IS THE KEY TO ENLARGING IT, PUT 1 DOT ON THE X TREASURE, PUT 2 DOT ON TOP J8, PUT 21 DOT ON BOTTOM J8 WHEN YOU GET IT ENLARGED WHERE THESE THREE COVER THESE DOTS YOU HAVE IT. THEN TURN IT OVER TO USE ON THIS MURPHYS MAP.
DOT #1 TREASURE DOT #12 IS ON HY12
DOT #2 HY J8 AT 5 DOT #13 HY 12 ALSO
DOT #3 HY E13 AND ALABAMA RD DOT #14 SCOTTSDALE RD
DOT #4 CLAY STATION ROAD DOT #15 MICKE GROVE PARK AND ZOO
DOT #5 HARVEY ROAD AT HY 99 DOT #16 RR TRACKS GOING INTO MICKE GROVE
DOT #6 FOREST LAKE ROAD DOT #17 EIGHT MILE RD AT KING ISLAND
DOT #7 JAHANT RD AND SOWLES RD ? DOT #18 EIGHT MILE RD
DOT #8 HOG SLOUGH DOT #19 EIGHT MILE RD
DOT #9 ACAMPO AT RR TRACKS DOT #20 SHIMO TRACK OR ATLAS TRACK
DOT #10 HY J8 THAT IS ALSO WOODBRIDGE RD DOT #21 HY J8 AT HY 99. WHAT IS ODD ABOUT THIS IS
DOT #11 ALSO ON WOODBRIDGE RD HY J8 RUNS EAST TO WEST, AND SOUTH TO NORTH

WE THINK THIS IS JUST BACKUP PROOF THAT OTHER OVERLAYS WORK, DID NOT POINT OUT ANY THING OTHERS HAD NOT ALLREADY SHOWN.

THIS MAY FIT OTHER MAPS, BUT IT IS A HEADACHE TO WORK WITH, HAVING TO CHANGE THE SIZE OVER AND OVER TO FIND RIGHT SIZE.